The First Two Tips You Need In Delivering Client Success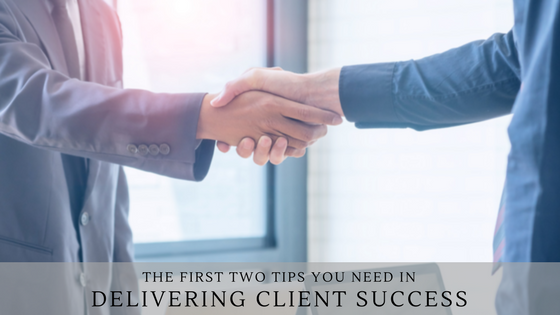 Being an Account Lead doesn't mean you're only responsible for day-to-day client communication. It means leading your client through a successful campaign by using your creativity, organizational and communication skills while using your marketing foundational knowledge to deliver value. You're not only providing the client services but also the clients strategies.
Client services is all about building those relationships with clients, creating a foundation for trust and executing on a delivery process that drive results. With that, it's our job to create a seamless delivery process in order to plan, build, execute and manage those marketing strategies.
HubSpot created a course exactly for this – Delivering Client Success – but if you're looking to make a few quick changes today, start with the outline below of the course to set yourself, your client and expectations up for success.
Content Audits
The first thing you want to do is look at the content your client already has and create quick wins.
A quick win is taking content you already have from your client, both online and offline, and easily changing the format, using it to convert unknown visitors into leads. This shows immediate value in the services provided.
Evaluate for quality and quantity by performing the three steps below. Before you begin, explain to your client what you're doing, why you're doing it and how you're doing it.
Categorize the content and ask questions like: How old is the content? What is the purpose? What format is it in? Is it accurate? Is it up-to-date? Where exactly does this fit into the buyer's journey?
Evaluate the performance of the content because your goal is to get a holistic view on how the content is doing. We know creating new content can be pricey, so always start with existing content you can use to save your client time and money. If your client has been tracking their content, ask for permission to view their online analytics tools. Use tools like Google Analytics, Hubspot, YouTube, SlideShare or other social media platforms. If tracking hasn't been implemented, gather insight by speaking to employees and customers of the company.  
Provide recommendations and show your client what can be changed quickly to show instant ROI and those quick wins I mentioned. Ask yourself questions like these when identifying those recommendations:
Can this be reworked? Does it need to be cut? Can this be consolidated with another piece of content? What channels are being used for distribution?

It is helping the individual identify that they have a problem? Or why they should consider certain solutions? Or helps them make a purchasing decision?
Email a summary of your finding to the client and set up a call to review the recommendations in detail. After your quick wins and high fives all around in changing/refreshing the content it's time to discuss the direction for the future.
Need an SEO check up? Contact us for a FREE SEO Audit analysis.
Goal Setting
It's extremely important to set client expectations from day one. This ensures everyone is on the same page and helps create the foundation for your strategy.
Define business, sales and marketing goals and get a good understanding of what employees of the company understand or define their goals to be.
Evaluate historical data by reviewing reports to see their analytics and statistics.
Facilitate a goal-setting workshop and discuss the findings from the first 2 steps with the sales and marketing representatives. This workshop will allow you to set achievable, attainable goals by looking directly at the historical data.
Set the goals from the historical data gathered and the information you learned during the workshop. Your goals need to be SMART: Specific, Measurable, Attainable, Relevant and Timely. Make sure your client agrees on the set goals before moving forward to execution. If your goals aren't met, it doesn't mean the entire campaign has failed but that these goals take time and it's a work in progress.
Review the goals as they should be evaluated on a regular basis to make sure everyone remains on the same page. Be open with your clients and let them know what goals have and haven't been met or what changes might need to happen moving forward.
Once you've set your goals, you'll use them to create a foundation for your campaign strategy. Look out for the second series of this blog where we'll cover creating a strategy plan and delivering value.
Can't wait? Until then, check out the Delivering Client Success Certification in HubSpot or download our free digital marketing assessment!