Social Media Impact | Part Two: Snapchat
By Jo Brown
Which Brands Are Using Snapchat Effectively?
Since Snapchat hit the App Store in September 2011 it has slowly taken the social media world by storm. Although the app has had a lot of ups and downs, it has since climbed to the top of the social media platform rankings. With an estimated 188 million daily active users, Snapchat provides a valuable opportunity for brands to reach a huge audience at a low cost.Snapchat is the digital marketing world's version of the "elevator pitch"
It allows your company to show an ad to consumers all around the world–the catch, of course, being that you only have 10 seconds to make an impression.
So how do you use the limited time available on Snapchat wisely? and What is the most effective type of content to engage consumers on Snapchat? These are some of the questions that we intend to answer in Part 2 of the Social Media Impact blog series. Join us as we take a look at some brands that are working Snapchat magic.
On average, Snapchatters are opening the app 25 times a day and sending 3.5 billion snaps in total. Thus, it comes as no surprise that consumers use the app in all different types of locations. 
In 2017 a Greenberg Strategy study commissioned by Snap Inc. found that 80% have used the app at a restaurant, 67% at a shopping mall, and 50% at a gym.
Clean & Clear Acheives Success with Snapchat Geofilters
Snapchat geofilters enable companies and brands to create a unique filter for Snapchatters to use that promotes their product, company, and/or campaign. Once created, a geofilter can be applied to a certain geographic location.  
Clean & Clear used Snapchat to bring awareness to their Morning Burst Facial Cleanser. They wanted to target females age 13 to 24. Snapchat is a great place to target consumers 35 and under, as 30% of US millennial internet users use Snapchat regularly. Snapchat is also a smart place to target female consumers, as an estimated 70% of Snapchat users are female.
In order to reach their target audience, Clean & Clear applied the filter below to various high schools and college campuses locations throughout the country. With millions of females in both high school and college using Snapchat daily, you can agree with us that this was a smart choice. The campaign was wildly successful resulting in 40.2 million views and a 16% increase in brand awareness!
(Photo by Snapchat)
BMW Reaches Millions with Snapchat Lens
Snapchat lenses use augmented reality (AR) technology to provide users with the feeling that they are a part of the story. Unlike stationary filters, lenses move and provide Snapchaters with an interactive experience–great for businesses looking to engage their customers with a product! 
Snapchat's lens feature is a huge win for businesses who are now able to get their target audience excited about a new product or their brand in general. We should also add, the cost of a lens ad is significantly cheaper than non-interactive ads or even a traditional media channel. 
BMW created the first product trial lens to introduce the BMW X2. The lens allowed consumers to see and interact with a 3D model of the luxury vehicle all from their smartphone. Millions of people used the lens and none of them had to drive to a dealership to check out the new car.
The lens was so successful that on average consumers engaged with it for 54 seconds. That's way longer than most people pay attention to a traditional advertisement.
Pura Vida Wins with Snapchat Ads
Don't worry, Snapchat also provide a more traditional ad format for business to use–Snap ads. Snap ads are shown to users while they're watching snap stories or looking at promoted materials. 
When it comes to Snap ads, Snapchat provides you with access to a huge database to target from. This allows you to narrow in on the specific audience you're trying to reach. You can target based on a user's interests, what they're watching, what they buy, where they go, demographics, and more.
Pura Vida, the charitable jewelry retailer, used Snap ads to reach a new audience. They wanted to reach out to individuals who matched the demographics and psychographics of their current customers, as well as those who previously visited their website. 
Pura Vida put together bright and colorful Snap ads that when "swiped up" would take consumers to their mobile store. They also used both a verbal and written Call-to-action (CTA) to encourage Snapchatters to shop now.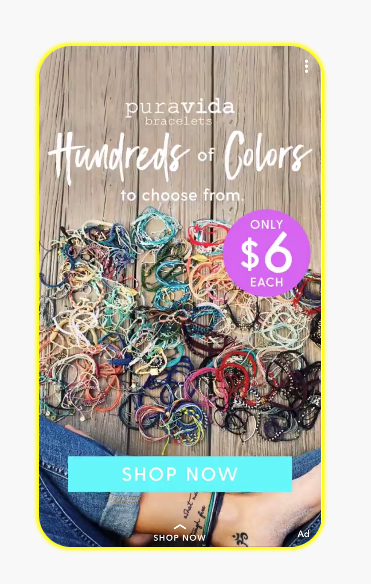 The Snap ads were wildly successful. Pura Vida was able to reach a new audience, while also producing huge results for their company. The cost per swipe was 55% lower and cost per acquisition was 22% lower than its average on other platforms. In addition, the total average daily revenue increased by 15%. After these results, it comes as no surprise that Pura Vida is now an avid Snapchat advertiser.
Snapchat provides you with the opportunity, will you to take advantage of it? 
Snapchat provides an amazing advertising platform for companies and brands. It is up to them to get creative and engage consumers. From customized filters and lenses to snap ads. Snapchat provides businesses with unique opportunities to engage and interact with a targeted audience, in 10 seconds or less! Using Snapchat, businesses can increase brand awareness, drive impressions on a campaign, and grow sales! When used effectively, Snapchat has the ability to take your advertising and your company to the next level.
For more on how to build your business' social media presence, download our Social Media Handbook, guaranteed to get you going in the right direction when it comes to developing an effective social media campaigns.