Pinckney Culture: Supporting Moms in the Workplace
By Amber Plattenberger
Transitioning From Pinckney Operations Manager to Pinckney Operations Mom-ager
As Operations Manager at Pinckney Marketing, my role is to look over the team to ensure we are working efficiently, on time and on budget.
Just recently, my role has shifted as I have become an Operations Mom to a beautiful baby girl.
As much as I love my one-on-one time with my new bundle of joy, on maternity leave I felt a disconnect between my work life and how different it would be when I returned.
On the flip side, when the days came to return to work I had a sudden guilt of not having the constant connection with my daughter. Here's how I handled the transition…
PS: Throughout the blog be sure to spot Pinckney's Core Values, bolded below. It's true–they are values we built from within and live by every day!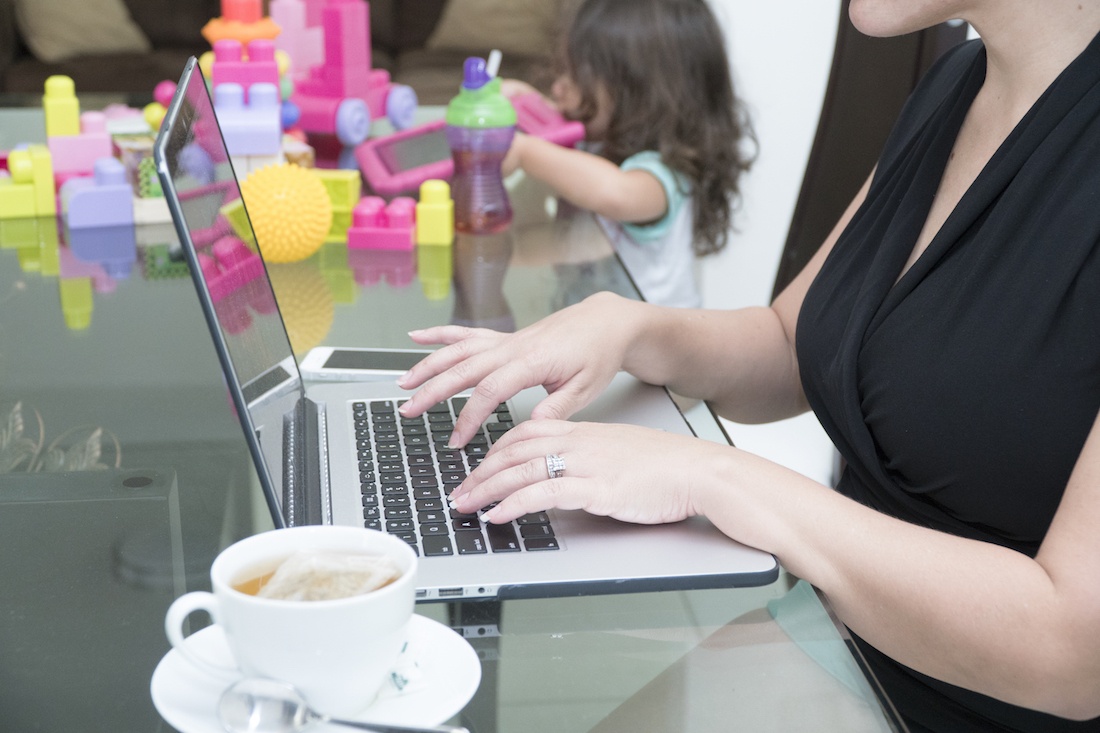 Cue The Pinckney Marketing Family!
From the day I went into labor (4 days earlier than planned), I was showered with congratulations and check-ups from the entire company. When you love what you do, work is not just a job and coworkers are family.
It was very important to me when I returned to work to have a boss and coworkers that cared so much about me and my little one's well-being.  
From the day I stepped back in the door, I was shown compassion for this new life of a working mom and was allowed time to adapt to this new lifestyle.
I was allowed to leave an hour early to spend quality one on one time before the nighttime routines began. This helped me transition back to full time by allowing that bonding time that I wasn't getting as much of anymore.  
Not many people can say their boss or company looks after their emotional needs. This is why work culture is so important and working for a place that does not just work, but family. Had it not been for culture and compassion, I could very well have been joined the majority statistic of moms not returning to work.
Don't get me wrong–there is nothing wrong with stay-at-home moms. Just in my situation, going back to work at Pinckney helped make the transition smooth and a little less guilt-free.
Similarities of Operations Managers and Operations Moms
Every day as moms, we get up when the baby cries. We feed them on demand. We cuddle them. We lose sleep. We are covered in spit up. We watch them reach milestones and when we lay our heads down at night we give our thanks and say 'let's go again'.
As Operations Managers, we report when the boss says report. We purchase and bill on demand. We nurture the company by respecting the agency. Sometimes things pile up and get messy, but when we watch our coworkers and business achieve goals, we go home with smiles on our faces.
One thing I love about being an Operations Manager is the ability to be hands-off regarding the details of each task, but have a full understanding of all of the tasks from a high-level perspective.
Sometimes a day may be dealing with constant phone calls, emails, or simply cleaning up around the office. Other days may be full on fire drills of reporting and accounting.
On the flip side, as a mom, it is all hands on deck with detail all the time without looking at the full picture. We take things moment-by-moment and day-by-day. We solve problems without excuses.
People Change–And That's Not A Bad Thing
It's been said that people change when they become parents–well that is the TRUTH!
As mothers, we want to nurture and protect our little ones every second and find ourselves nurturing and trying to protect our coworkers and the company more than before. We try to give motherly advice (even if they didn't ask).
The world looks different in a mother's eyes and everything around you becomes like a child you need to protect.
We talk different, we dress different, we walk different (not because we are different people, we are still the same person), but we just see things differently. And we start thinking ahead and looking ahead and trying to plan.  We just may even need a private room for a "pump break" every now and then.
To top off my return, it was a hot demand to bring my daughter to work one day. My boss without hesitation said "bring her". The entire staff jumped in, willing to help.
The day flew by and she jumped from arms to arms being taken care of, helping send emails, and answering phone calls.
At the end of the day, I feel I have two full-time jobs that may seem so different but couldn't be more the same at the roots.
I look forward to going home to my family and my work family keeps me on my toes until then.
Pinckney Marketing is a family owned and operated business that wants coworkers and clients that share the same values as we do.
Whether it is a full-time mommy or full-time Pinckney Marketing, get-it-done attitudes keep us striving for the best whatever role we play.
To learn more about who we are, our core values, and what we do visit our About Us page.