Meet Our Pinckney Pets!
By Campbell Stanley
We almost always have pups at the office and we wouldn't have it any other way!
Having a pet-friendly office brings so much joy to our day-to-day and really is a foundational piece of our workplace culture.
Without further ado, meet our favorite office visitors!
Jeffery ("Jeff")
Smartest Dumb Dog Ever
Human: Mike Pinckney
Smartest Trick: If you tell Jeff to wait, you can literally put any food in front of him and he will wait until the release command. One morning when I asked Kaeden to feed Jeff breakfast, she accidentally forgot to say "FREE" (release command). We all left and I took the kids to school and ran errands all morning. I didn't get home until after lunch. He sat by his food bowl all day without touching his food. There was a nice pile of drool next to the food bowl. I said "Jeff FREE" and I have never seen him inhale his food so quickly. Poor thing waited all day for a command to eat.
Cutest Memory: Everything! But the memories that stand out are always when he is there for the kids. He never complains.
Favorite Treat: Table Scraps
What Makes Him Special: He is my best friend and he is always there for me. He has helped me get through a rough last few years. He is loyal and loving. And I couldn't have asked for a better more loving dog.
Bill
The teddy bear that knows when to play and when to comfort.
Human: Amber Plattenberger
Breed: Shepard Mix
 Gotcha Day: March 2014
Smartest Trick: Shaking with both paws
Cutest Memory: When adults play tug-a-war with him, he is so strong he about rips their arm off; however, when our nephews play tug-a-war, he becomes a big teddy bear and he lets them drag him around with his rope.
What Makes Him Special: He recently became a big brother and feels the need to be wherever his baby sister is and protects her at all times.
Elephant
The playful pup who will always curl up on your lap!

Human: Campbell Stanley
Breed: Morkie (Maltese, Yorkie)
Gotcha Day: October, 2015
Smartest Trick: "Bang bang" and she plays dead
Cutest Memory: Every time we get home, she is so excited to see us, even if we've just been gone for an hour!
Favorite Treat: Bananas
What Makes Her Special: She greets everyone with a toy—she just wants to share the love!
Pippa ("P")
Pippa'n Ain't Easy
Human: Hallie Moser
Breed: Spaniel Beagle Mix
Smartest Trick: Pippa is a short pup, but if you say high five, she'll jump high up and nose-bump your hand. She's cool like that.
Cutest Memory: I don't know if I have a one-time memory, but every morning Pippa makes me giggle. Homegirl isn't an early bird, so when I wake her up early in the morning, she buries herself into the bed and grunts like an old woman. She's very vocal and emotive, so you always know how she feels about any situation. 
Favorite Treats: Peanut Butter Buddies and Chicken Jerky
What Makes Her Special: She is the most human-like puppy I've ever met and the very best cuddle pup. If you're ever in the need for extra attention, she gets right under your chin, lays on your neck, or interweaves herself around your legs to make herself comfortable.
Toby
Partner in Crime
Human: Josh Briscow
Breed: Australian Shepherd
Smartest Trick: Plays fetch and frisbee (he could play all day if allowed.)
Cutest Memory: Toby never leaves Riley's side, they are truly partners in crime. 
Favorite Treat: Ice
What Makes Her Special: He will stay by Riley (youngest daughter) side at all cost.
Journey
The Biggest Journ in the World
Human: Alex Butz
Smartest Trick: Shake
Cutest Memory: Head tilts
Favorite Treat: Busy Bone
What Makes Her Special: She's the nicest and softest dog ever.
Trip
Little Flop Monster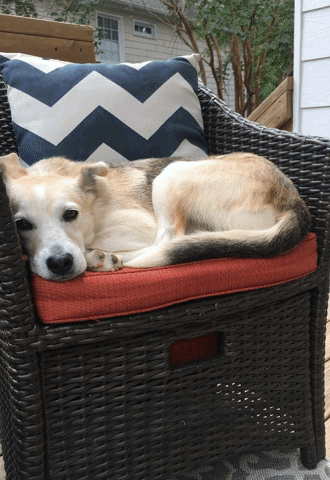 Human: Alex Butz
Smartest Trick: Touch/Shake
Cutest Memory: She is a floppy little monster
Favorite Treat: Anything
What Makes Her Special: She was a rescue and we saved her life!
Murphy
Humans over dogs…dogs can't pet me
Human: Matt Gorlaski
Breed: Miniature Golden Retriever
Age: ~2 years old
Smartest Trick: When told to "place," murphy will jump and sit on anything.
Cutest Memory: The first time he played in the snow.
Favorite Treat: Ice Cubes
What Makes Him Special: He's very quiet.
Bandit
Feline Fabulous
Human: Amy Norman
Age: 2 1/2 years old
Smartest trick: Always finding ways to steal food.
Cutest memory: When he leaves his tongue sticking out.
Favorite treat: Anything he can get his paws on.
What makes him special: All of his little quirks and strange things he does. There's never a dull moment.
Beaufort
Food, Bone, Mom
Human: Ashley Carr
Age: 3 years old
Smartest Trick: He takes the best selfies.
Cutest Memory: Jammin' to One Direction together/playing dress up/his first
time playing with a ball/getting a cat toy stuck in his mouth…I don't know. He is the cutest—its hard to pick just one!
Favorite Treat: Chicken bone
What Makes Him Special: Beaufort is everyone's favorite. He is an old soul.
and has always been calm, sweet, and cuddly. Even when he was a puppy,
people would stop me to tell me how calm he was. He is the BEST.
We love all of our Pinckney pets, and luckily, we are able to successfully have a pet-friendly workplace because of our respectful and courteous pup owners. At the end of the day, we love having pets at work because they keep us in a great mood so we can work hard and focus on our client's projects.
If you would love to work with an agency that loves pups as much as you, let us show you how inbound marketing can impact your bottom line with our free inbound revenue calculator.