In-House Marketing or Outside Agency: What is Best for Your Business?
By Alex Butz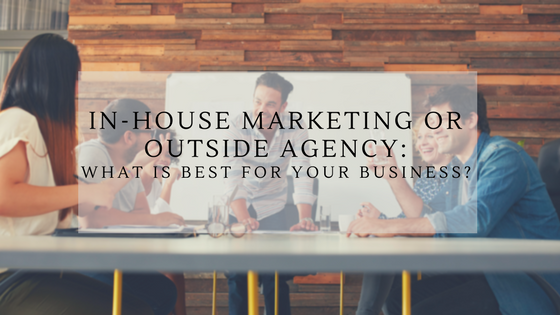 Choosing what's best for your business, in regards to how you market your brand is crucial. Most times, marketing budgets are strictly allocated and watched closely to track ROI.
Over the past decade, we have seen a huge shift into the digital marketing space, giving marketers so many more options for where to apply budgets and how to build strategy.
So often I come across decision makers that are trying to determine whether they should outsource their marketing to an agency or hire the necessary resources in-house.
There is no clear cut answer to this question – everything comes down to what is best for you, for your company, and for the goals you have set in place.
I have seen examples of success with both approach.
Here are the common questions I hear:
How do the costs compare?
The first thing that always comes to mind when comparing cost is overhead.
How many people will you have to hire to build out your team internally?
How many desks and chairs?
How many employees will need benefits?
How long will it take to train the new hires?
Outsourcing to an agency has a level of investment too but that money goes more towards time and materials. An agency will only charge you when there is work to be doing. They also do not need PTO or holidays off.
Agencies have people in place with different skills suited for each piece of your marketing and you are hiring all of them when you chose that agency. Be sure to compare apples to apples when determining cost. Hiring one "jack-of-all-trades" person is not a fair comparison.
It is also important to determine your frequency of need – how much bandwidth do you have internally? Often times, agencies can be a great addition to your internal team, aligning with current strategies and best practices, to provided added horsepower during times of flux.
How does the talent compare?
There are smart and talented people everywhere in this business, on both sides of the fence. In most cases you find the ones that stand out in the environments that allow them to express themselves most.
More often than not, agencies have the reputation for being more creative and lively. Corporate environments, even marketing departments, can get stale.
If you are building a team internally, challenge them to be creative at every turn. It can be deflating to work on the same brand, logo, messaging, etc., again and again.
Agencies can offer a diverse client list to their employees, giving them new challenges everyday, new problems to solve.
Which option is more convenient?
By default, in-house marketing is going to be convenient. The entire marketing department is in the same building as the rest of the company. Getting questions answered, holding briefing meetings, presenting ideas and brainstorming, can all happen pretty easily.
With that said, video conferencing, file sharing, email and cell phones have also made it pretty easy to communicate with agencies as well. Just be sure to ask specific questions about turnaround times and rush orders during the agency vetting process.
Find an agency you are confident you will be able to reach in the eleventh hour; when you need them most.
Any other burning questions? Contact me today.  Give me a call at 704.496.7907.