What You Need to Know About Design & Social Media
By Amy Norman
Designing for Social Media Success
Over the past few years, social media has risen in popularity exponentially. With it's rise, businesses have taken advantage of advertising on platforms such as Facebook, Instagram, and LinkedIn. 
These apps take into consideration the other accounts you follow, your searches, and interactions to provide you ads that are relevant to you. I'm still convinced they're listening to us (looking at you Facebook and Instagram). 
To stand out from your competition, it's important to have clever and attention grabbing headlines as well as eye-catching design. Let's dive a little deeper into the dos and don'ts of design for these platforms to ensure success for your business!
Facebook
Facebook took the world by storm when it was made public back in 2004, and continues to be the powerhouse of social media today. As of July 2018, Facebook has more than double the active users than Instagram, and LinkedIn doesn't even compare.
When making posts and advertising on Facebook, you have a much broader reach than the other networks. With that being said, you need to be aware of your audience and design for who these ads will be reaching. Before you jump right into your design, you first need to be aware of your options and some of the restrictions Facebook has in place.
Carousel Ads
These are sponsored ads that can be used to promote multiple products. While these images are smaller than the other options we'll talk about, it doesn't mean they're any less effective. Even though these ads are broken up into separate squares, don't be afraid to get creative and even break the plane of said squares. 
Collection Ads
Best used to promote one product. Similar to collection ads, these are made up of multiple images. The main difference here is that this has a larger focus image along with multiple smaller images. These have been successful with our auto clients because it allows us to not only highlight the exterior of the car, but special features of the interior as well. Below you can find an example of how a collection ad would be viewed.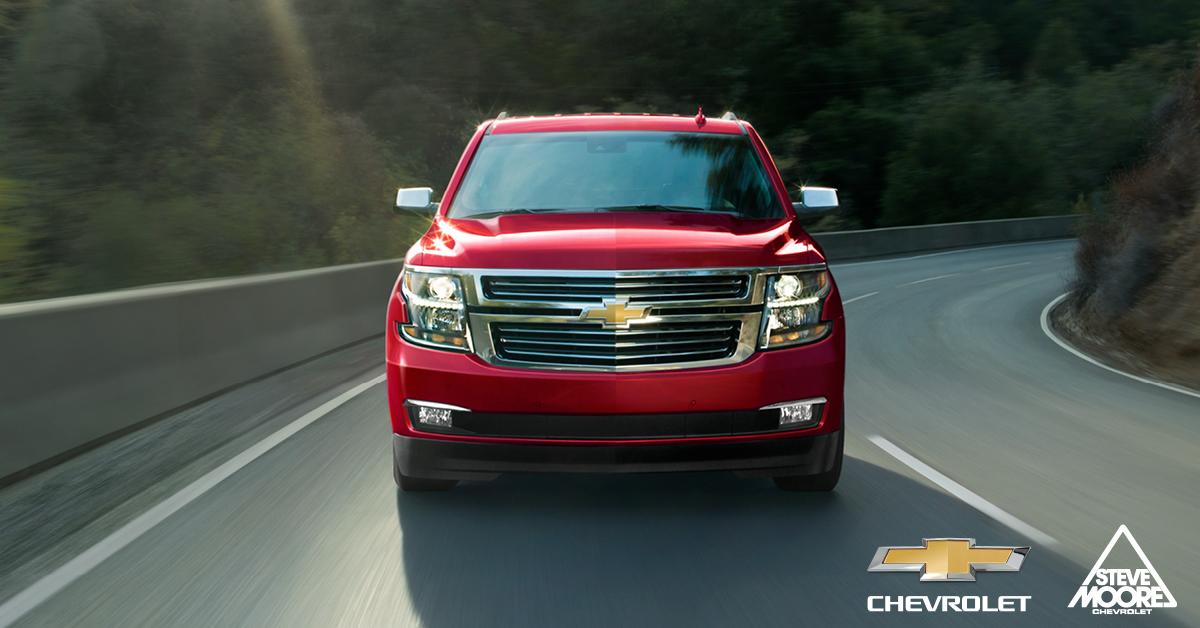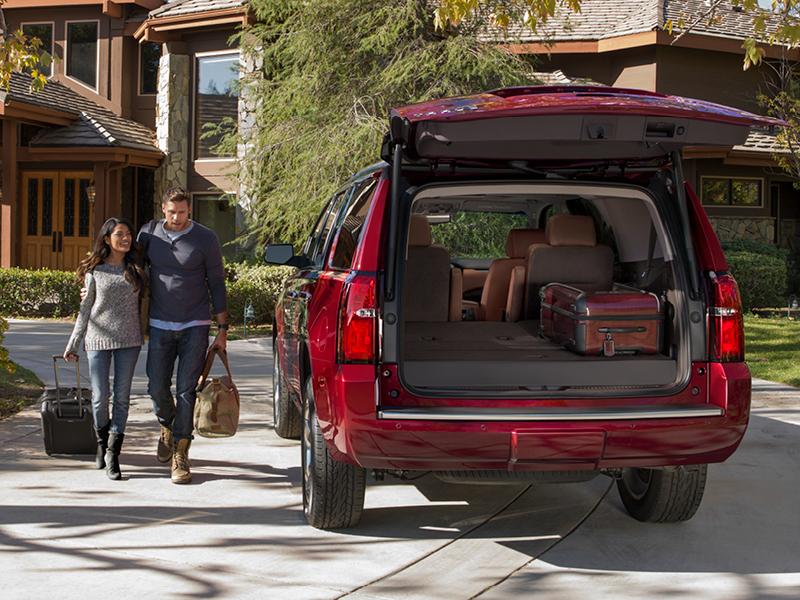 Organic Posts
Last but not least, you have organic posts. These differ from the other two because they're free, only people that follow you will see them (unless your followers share the post), and you have a little more creative freedom. We'll get into restrictions shortly, but posts allow you to freely design without worrying about being penalized for it. Posts are frequently used to promote blogs and articles, or to share an awesome design or photo with your following!
Now before you dive head first into your design, lets touch on Facebooks restrictions. 
As you can see in the examples above, everything is mostly image based and doesn't feature any text. That's because with Facebook ads, they have a text to image ratio in place. If you have more than 20% text on an ad, you run the risk of not reaching as many people as you might be hoping for. 
With that being said, it doesn't mean you can't create an eye catching ad! Add a pop of color in there, throw in an interesting pattern or texture, and lastly don't be afraid to break the plane!
It's important to stay up to date on those regulations and restrictions for each social media platform. Technology is always changing, which means the way something is designed will be too. The last thing you want is to design a really awesome ad, just to have half of it getting cut off. This will result in the viewer immediately scrolling past without a second thought. So, save yourself a headache and keep tabs on those ad sizes ladies and gents! 
For facebooks size regulations and restrictions, click here!
Instagram
Instagram may have half the following that Facebook currently has, but it shouldn't be written off immediately. While scrolling through Instagram, I was given three ads within one to two minutes of scrolling. The catch is, I barely realized they were ads because the imagery was so interesting. 
Instagram appeals to a younger crowd than Facebook, but it gives you creative freedom and allows you to have fun with your designs! I've seen everything from colorful photography that pops to looping video ads that you want to watch over and over again. Instagram gives you two different ways of posting ads, in the viewers feed and a story. You can find great examples of both below.
As you can see, these ads are a little more adventurous than those on Facebook
You no longer have a text restriction and many brands use that to their advantage.Emojis and bright colors are no stranger to Instagram as well. If your brand is fun and light-hearted, Instagram is the way to go.
Lastly, you can't forget about the option to share fun pictures with your followers, we definitely don't! We share our Pinckney pets on Instagram all the time!
Find correct sizing for Instagram ads here and get your design on!
LinkedIn
While Instagram is fun and Facebook appeals to the masses, LinkedIn takes a different approach with social media. If your brand is more sophisticated and professional this is the option for you. This is the network that gives you the least amount of creative freedom.
Not only do they have restrictions on the language you can use, but what you're advertising as well. With that being said, you won't find any fun designs or emojis here.
Designing on LinkedIn is photography based, with the occasional illustration or video, and often shows professionals at work or office spaces. Here are some examples of how Pinckney uses LinkedIn: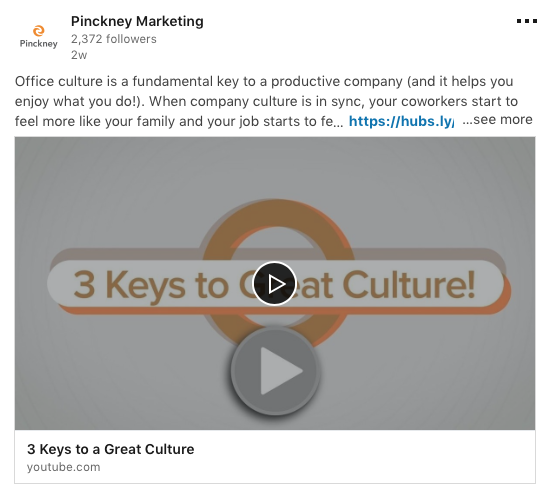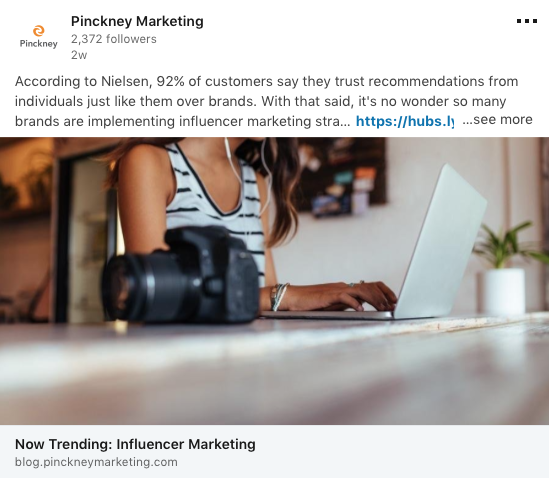 As long as you follow the guidelines and keep your designs professional, LinkedIn can be a great tool to reach other businesses and professionals.
To review the guidelines and specs for LinkedIn follow this link.
Social media is a great way to reach a new audience. Designing specifically for each network and following the guidelines will get you on the right track to success! Don't forget to keep track of the response you get on your posts and ads. This is a definite way to know what your audience likes so you can continue designing and making content similar to the things that are working well. Need a little more guidence when it comes to social media? Download our Social Media Handbook!
Even though there are guidelines to follow, don't let that stop you from being creative! Take risks, work smarter not harder, and happy posting!